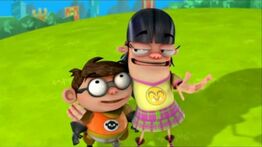 Yo has a huge, major crush on Chum Chum, to which Chum Chum is annoyed at. Almost every time this occurs, Yo is seeming to try and get Chum Chum to herself. Although this happens almost every time they are around, Chum Chum and Yo seem to soften and feel sorry a lot as the series goes. They are known by ChumYo, their duoname.
Yo's Opinion of Chum Chum
Yo seems to have a huge friendship lock on Chum Chum other than anyone else. She loves him more than anyone, and thinks she and Chum Chum should be a couple. She wants to get Chum Chum to herself and have fun with him, and sees him like they should be a couple rather than just friends. However, she also feels sorry for Chum Chum and even tags along with him on occasions. Yo is always there for Chum Chum, and is sticking close to him.
Chum Chum's Opinion of Yo
Chum Chum is friends with Yo, but to his perspective, she drives him nuts. He is exreamly annoyed by Yo's company and nuttiness over him, and demands this to stop at once. But Yo sees that he and Chum should be together, like a family, and will not give up. As the series goes, Chum Chum feels sorry for Yo and sees that he and Yo should be together.
Notable Friendship Moments
Gallery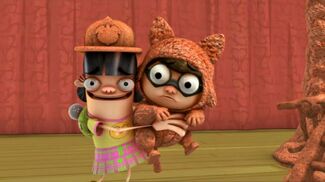 The image gallery for Chum Chum and Yo's relationship may be viewed here.
Ad blocker interference detected!
Wikia is a free-to-use site that makes money from advertising. We have a modified experience for viewers using ad blockers

Wikia is not accessible if you've made further modifications. Remove the custom ad blocker rule(s) and the page will load as expected.