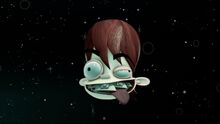 The Gooper is Kyle Bloodworth-Thomason's floating head who only appeared in Hex Games.
About
The Gooper is an enemy in Sigmund's video game. He is supposed to represent how Sigmund thinks of Kyle. Sigmund sees Kyle as a fool, which is why the Gooper acts foolish and somewhat insane.
Trivia
Ad blocker interference detected!
Wikia is a free-to-use site that makes money from advertising. We have a modified experience for viewers using ad blockers

Wikia is not accessible if you've made further modifications. Remove the custom ad blocker rule(s) and the page will load as expected.