When did we ever ruin a class picture?
This article or gallery needs more pictures. Please add more from iTunes screenshots or HQ/HD images from Nickelodeon.
Once there is a sufficent number of pictures on the gallery, this can be removed.
After doing one too many bad deeds, Fanboy is transformed into a marionette by a fairy as his punishment. But Fanboy thinks the transformation is amazing, and he tries to keep it longer by doing a good deed.
Scribbles and a Paper Fight
Fanboy's Bad Deeds
A Wooden Boy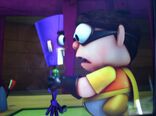 Finding a Good Deed in School
Finding a Good Deed in Town
Boog Interferes
Marionette Fight
Bad turned out Good
To return to the "Strings Attached" episode summary, click here.
Ad blocker interference detected!
Wikia is a free-to-use site that makes money from advertising. We have a modified experience for viewers using ad blockers

Wikia is not accessible if you've made further modifications. Remove the custom ad blocker rule(s) and the page will load as expected.