Global Warmer is a character of Fanboy and Chum Chum.
Global Warmer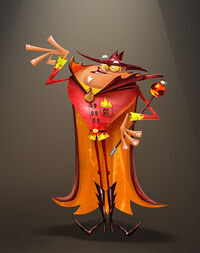 First Appearance: Stan Arctica
Gender: Male
Voiced By: Jeff Bennett
Character
Global Warmer is an super-villain and archenemy of Man-Arctica who appears in "Stan-Arctica" and "Man-arctica the Ride". His name is a play on the term global warming. Normally, he is very sophisticated, but he is also very playful.
Appearance
He is a tall, muscular man who wears red pimp-like clothing, fedora, yellow glasses, white hair and goatee.
Trivia
His catch phrase is "Bibbity bobbity boo!" This is an obvious reference to Cinderella.
His voice sounds a bit like Bill Thompson's Voice of The White Rabbit from Alice In Wonderland and Mr. Smee from Peter Pan.
Ad blocker interference detected!
Wikia is a free-to-use site that makes money from advertising. We have a modified experience for viewers using ad blockers

Wikia is not accessible if you've made further modifications. Remove the custom ad blocker rule(s) and the page will load as expected.