Is this real life?
This article is written in a perspective from the "real world", where the audience lives, and not the universe where Fanboy and Chum Chum reside.
Oh, he wanted me to find a wrench. I can't help thinking there was something he wanted me to do with it. What was it?
This article has absolutely no links to this page or all red links.
Please create the articles if you can.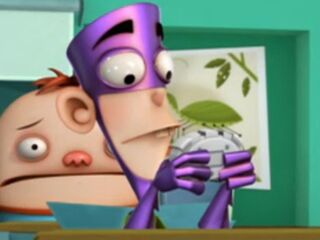 Games relating to Fanboy and Chum Chumare now available in stores and to play online. Information for both is provided below.
Online games
| | |
| --- | --- |
| Game | Description / links |
| Main games page | US •UK • UK (2) •Denmark • Netherlands |
| A'Hoy! | Help Fanboy, Chum Chum and the gang search for treasure while driving the Fanlair ship through the streets. |
| Arcade Raid | Help Fanboy and Chum Chum collect enough coins so they can buy their Frosty Freezy Freeze. |
| Bubble Trouble | Protect Fanboy and Chum Chum from dangers and falling off the roof as they bounce around in Boog's plastic bubble. |
| Chimp Chomp | Just like in the show, your character must collect bananas and reach the top of the building while dodging the big monkey (Known as Chimp Chomp). |
| Chimp Chomp 2 | The sequel to above. The levels are new, but the monkey is badder. |
| Dollar Dance | Help Fanboy and Chum Chum stay on beat while they practice their Dollar Dance. |
| Frosty Freeze Ball Fight | The Frosty Freezy Freeze machine is amok! Guide Fanboy and Chum Chum in an epic battle to stop it. |
| Hocus Pocus Pox | Kyle has turned into a chicken! Help him find the nests and lay eggs to cure him without bumping into Fanboy and Chum Chum who want to help. |
| Nick Racers | Race other Nick characters in this multiplayer racing game |
| Seize the Frosty Freezy Freeze | Guide Fanboy and Chum Chum through various obstacle courses so they can find their Frosty Freezy Freezes. |
| Shenanigans! | Play tricks on Kyle by throwing pies at him as he is carried around by Fanboy and Chum Chum's clones. |
| Slingsnot Shot! | Sneeze hard enough to make Fanboy and Chum Chum fly up into the air as high as they can. |
| Super Brawl 2 | Fight other Nick characters in the sequel to this fighting game. |
| Super Fall Brawl | Like Super Brawl, this special sequel released in the fall and has a special fall theme. |
| The Defender | Help Man-Arctica stop UFO attacks in Galaxy Hills, but watch out for Global Warmer! |
| The Fanlair | Relax in the Fanlair with your favorite Fanboy and Chum Chum friends and find games and other surprises. |
| Who's Your Summer Camp Sidekick? | Find out who will be your summer camp buddy. |
Ad blocker interference detected!
Wikia is a free-to-use site that makes money from advertising. We have a modified experience for viewers using ad blockers

Wikia is not accessible if you've made further modifications. Remove the custom ad blocker rule(s) and the page will load as expected.