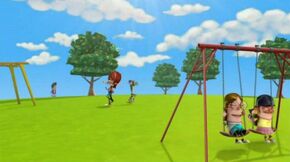 Galaxy Hills Park is the greatest place to relax and play in Galaxy Hills. Located a mere hop across the street from
Kyle's house
, the park is an open green of fun.

The park has a yellow fence around the outside. It has the same rides as seen at other school playground, plus a few bonuses. There are trees surrounding the large, grassy plains. There are also benches where people can rest at, especially when it comes to just snoozing.
Ad blocker interference detected!
Wikia is a free-to-use site that makes money from advertising. We have a modified experience for viewers using ad blockers

Wikia is not accessible if you've made further modifications. Remove the custom ad blocker rule(s) and the page will load as expected.