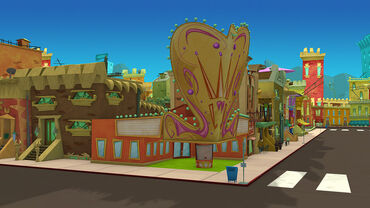 Galaxy Hills Movie Theater is the main cinema in Galaxy Hills. Right next to
Tricks & Gigglesand
a few hops down the street from
The Fanlair
, Galaxy Hills Movie Theater is the best movie-watching place in town
Exterior
The movie theater has orange walls and yellow trim. The center is a large, crown centerpiece with red crown designt and pink ribbons. Lights align the main roof.
Box Office
The box office area has seversl posters of the movies avalable. In the front, a large, red pod stands in front of kids to pay their tickets. The tickets are recieved by passing your hand through a hole in the middle of the glass window on the pod. Behind the pod are red doors that lead to the theater areas.
Theater Area
Each theater area has maroon walls and deep red carpeting. In the middle of the area, over 15 rows of deep pink fold-up seats stand in front of the main projection screen.
Ad blocker interference detected!
Wikia is a free-to-use site that makes money from advertising. We have a modified experience for viewers using ad blockers

Wikia is not accessible if you've made further modifications. Remove the custom ad blocker rule(s) and the page will load as expected.