The Graveyard is the spookiest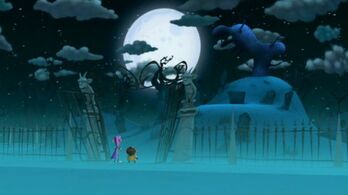 and gloomiest place in Galaxy Hills. First mentioned by Oz, anyone who goes there will get quite a scare. The graveyard is also known for its central tree shaped like a foot.
Enterance
The outside of the graveyard is outlined by a silver barb and iron fence. There are two pillers with gargoyles at the gate. The gate's doors are black and iron coated.
Inside
The graveyard is dirty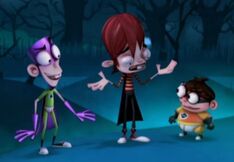 and murky on the inside. The sand is blue and soggy, and the hills are slippery. There are many trees with no leaves all over the place. There are also many tombstones covering the ground. In the center of the graveyard is a big tree in the shape of a bare foot.
Appearances
Ad blocker interference detected!
Wikia is a free-to-use site that makes money from advertising. We have a modified experience for viewers using ad blockers

Wikia is not accessible if you've made further modifications. Remove the custom ad blocker rule(s) and the page will load as expected.