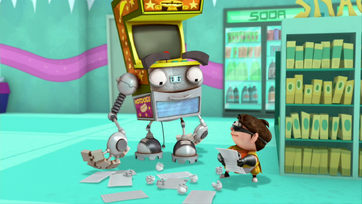 Frosty Jingle

Episode

Characters

Sung By

Length

:03
A song from Jingle Fever of Fanboy and Chum Chum season 1. Chum Chum and Dollarnator sing this, as the second (and almost official) jingle choice for the Frosty Mart.
Lyrics
Chum Chum: Frosss...tyyyy Marrrrt!
Dollarnator: Ding.
Trivia
This song is 3 seconds, the same as "Junk Mail".
First time Dollarnator's singing voice was heard.
First time Chum Chum and Dollarnator sing together.
Ad blocker interference detected!
Wikia is a free-to-use site that makes money from advertising. We have a modified experience for viewers using ad blockers

Wikia is not accessible if you've made further modifications. Remove the custom ad blocker rule(s) and the page will load as expected.