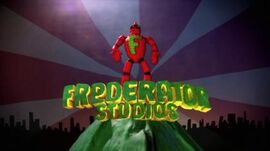 Frederator Studios is the vanity card of Fred Seibert and it's creations like, Fanboy and Chum Chum & others. It's also the owner of the adult animation division Cartoon Hangover.
History
Fred Seibert decided to launch his own vanity card for animation. He is the creator of the series itself. Their first production was Oh Yeah! Cartoons.They use CGI and 2D animation for Fred Seibert. Fred Seibert decided to create Fredbot as the mascot of the company to entertain more people who are fans of the vanity card. It also produces the Oh Yeah! Cartoons spin-off, Random! Cartoons. It also makes other nick shows like, The Fairly OddParents, Chalkzone, My Life as a Teenage Robot, Wow Wow Wubbzy, Nicktoons Film Festival, and Ape Escape.
TV Shows
Note: due to a adult cartoon having a bad word in the title, it will be censored by a period to not break the rules.
Oh Yeah! Cartoons
The Fairly OddParents
Chalkzone
My Life as a Teenage Robot
Wow! Wow! Wubbzy!
Fanboy & Chum Chum
Nicktoons Film Festival
Random! Cartoons
What a Cartoon!
Adventure Time
Rocket Dog (upcoming)
The Meth Minute 39
Cartoon Conspiracy
Bravest Warriors
SuperF.ckers
Too Cool! Cartoons
Bee and Puppycat
GO! Cartoons
Feature Films
Untitled Adventure Time Movie (upcoming)
Television Films
The Electric Piper
Abra-Catastrophe!
Channel Chasers
The Jimmy Timmy Power Hour
Escape from Cluster Prime
Wubbzy's Big Movie
Wubb Idol
Wishology
A Fairly Odd Movie: Grow Up, Timmy Turner!
A Fairly Odd Christmas
A Fairly Odd Summer
Trivia
The mascot for the company looks a lot like Iron Man and Optimus Prime from Transformers.
The 5th Frederator logo was made using stop motion Lego animation.
Ad blocker interference detected!
Wikia is a free-to-use site that makes money from advertising. We have a modified experience for viewers using ad blockers

Wikia is not accessible if you've made further modifications. Remove the custom ad blocker rule(s) and the page will load as expected.