Fanboy and Chum Chum appear in Kids Choice Awards 2011
.
Premise
Fanboy is nervous backstage when Chum Chum comes by. Fanboy tells him he can't announce the next award, and worries he'll freeze up. So, Chum Chum gets in his head and presents the award for him. After this, the award for Favorite Male Athlete is announced.
Transcript
Chum Chum: Hey Fanboy, ready to present our award?
Fanboy: I can't do it, Chum Chum! What if I freeze up?!?
Chum Chum: Idea! (gets inside Fanboy's head)
Chum Chum: Here's another one of tonight's winners!

Gallery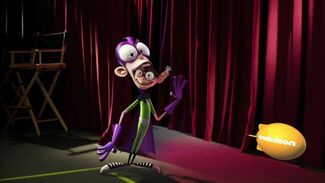 The image gallery for Fanboy and Chum Chum at KCA 2011 may be viewed here.
Trivia
This is the first time Fanboy and Chum Chum are in a live-action setting. The second is "Slime Day".
First time Chum Chum acts like Fanboy. Second is in "There Will Be Shrieks".
Goofs
Chum Chum pulls the tongue to open Fanboy's head, but "I, Fanbot " had to press your right foot, while "Brain Drain " he pulls a rope to his head.
Ad blocker interference detected!
Wikia is a free-to-use site that makes money from advertising. We have a modified experience for viewers using ad blockers

Wikia is not accessible if you've made further modifications. Remove the custom ad blocker rule(s) and the page will load as expected.