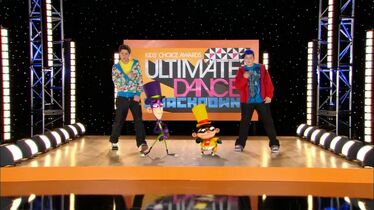 Fanboy and Chum Chum appear in Kids Choice Awards 2010.
Premise
Fanboy and Chum Chum lead Noah Munck and Matt Shively in a crazy hip hop dance as the third round for the Ultimate Dance Smackdown. In the end, they wind up as the winners.
Production
Animatic
Trivia
This is F&C's first appearance in the Kids Choice Awards.
First time F&C are in a live action location.
This is the second short where Chum Chum has no lines. First was "Head Suckage". However he is heard cheering and giggling during the victory celebration when they were announced the winners.
Ad blocker interference detected!
Wikia is a free-to-use site that makes money from advertising. We have a modified experience for viewers using ad blockers

Wikia is not accessible if you've made further modifications. Remove the custom ad blocker rule(s) and the page will load as expected.