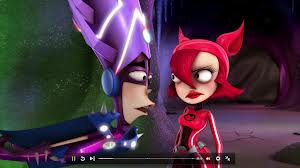 Copy Kitten is a super villainess who wanted to take the place of Fannihilator as super villain and be the new arch-enemy of the Super Chum. She appeared only in "Super Chums ". Fergie, a singer, voiced her. Copy Kitten bears similarities to Toralei Stripe, Meowlody, and Purrsephone from Monster High, a doll and movie line.
Ad blocker interference detected!
Wikia is a free-to-use site that makes money from advertising. We have a modified experience for viewers using ad blockers

Wikia is not accessible if you've made further modifications. Remove the custom ad blocker rule(s) and the page will load as expected.