Brizwald
is the cousin to
Oz Harmounian
who only appeared in
Risky Brizness
. Just like his cousin, he is a big fan of Man-Arctica.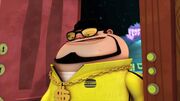 Oz thought Brizwald was going to steal his valuable Man-Arctica comics. He looks like Oz but he has a different hairstyle, yellow jacket, and a beard. He is much more successful than Oz.
Fact
While Oz's catchphrase is "seriously," Brizwald has one of his own: "sincerely."
Ad blocker interference detected!
Wikia is a free-to-use site that makes money from advertising. We have a modified experience for viewers using ad blockers

Wikia is not accessible if you've made further modifications. Remove the custom ad blocker rule(s) and the page will load as expected.