Berry the Ice Monster is a small creature who lives inside the Frosty Freezy Freeze machine at the Frosty Mart.
Character
He creates Frosty Freezy Freeze with his ice breath. In "Berry Sick", he becomes ill and is unable to produce any more Frosty Freezy Freeze. Fanboy and Chum Chum kidnap him and try to heal him. But then, the boys then become antagonists who are trying to get Frosty Freezy Freeze from the monster. He was created from the combination of Frosty Freezy Freeze and Ice-Monster Bun Bun.
Appearance
Berry is a pink creature. He also appeared in the 8-minute pilot, though in this appearance he was rather large, monstrous and had no feet.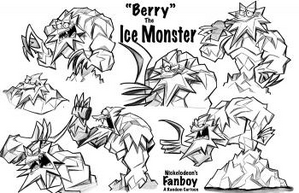 Ad blocker interference detected!
Wikia is a free-to-use site that makes money from advertising. We have a modified experience for viewers using ad blockers

Wikia is not accessible if you've made further modifications. Remove the custom ad blocker rule(s) and the page will load as expected.